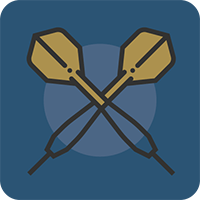 November 2020 Darts Update
We have well and truly finished our very short winter round and we managed to get 11 weeks completed all up.
We have five teams entered in our Summer competition which is a mixed grade competition.
We are really looking forward to playing in our new spot in Legends bar.
We have had a mixed pairs competition with Sarah and Jordan taking second place. Sarah, Eliot, Lance, Kayden and Jordan won the Champ of Champs and Maata and Antony came first in the married couples with Noeline and Timata second.
We have the national singles in November at the Richmond Club with 17 entries.
Also remember that we have darts shirts available for our Club members and supporters to buy for $20 each. Just speak to John Poole to purchase.
Cheers
Noeline