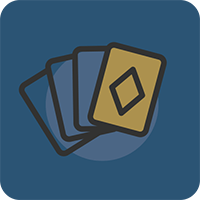 December 2020 Cards Update
Hello to all members. We have come to that festive time of year. I'm sure you will all agree it has been a year to remember, and we don't want another one like it.
Our Euchre Section have had some fun Euchre Club nights last month, as well as our normal card nights as well.
We had a Six-Handed Tournament on 5 November with 51 members playing on the night. We finished with a lovely supper. Everyone loves playing six handed with their nominated partners and against other teams.
The winners on the night were Ricky, Gina and James on 16 pts, and closely behind three other teams, as in the photo. We also hosted the 'Thelma Dawson Trophy', played between Euchre and Crib Sections. Thelma was a past valued and respected member of both Euchre and Crib Sections. She passed away in 2006. The overall winning team over the night, came back to the Euchre Section winning overall percentage of wins. We had 42 players playing Euchre and Crib, with refreshments and supper to finish off the evening.
We have just had our Xmas Hamper Night. We had a great turnout with 60 members (15 tables) playing euchre with 15 prizes to be paid out. Prizes were a variety of Xmas goodies including Hams, Hampers, Xmas Cake etc. We also had a large raffle for the 15 lucky numbers drawn out, to win the choice of the same type prizes. A fun social night enjoyed by all, finishing off with our Clubs lovely supper. There were some happy members going home with something.
On Thursday 3 December we have our Christmas Break up night with drinks from 6pm. We will also have a special Christmas Buffet Meal starting at 7pm. Once again, there will be lots of raffle prizes and it will be a great social night to finish off our Euchre Section Activities for 2020. To those members coming back in 2021, make sure you mark your calendars with our first night back. It will be Thursday 4 February with a social night. Any new members interested in joining our section, you are welcome to join us.
Our Rangiora Trots Race Day is on Sat 20 February. It is a great day to enjoy summer horse racing with euchre section members. We will also have a stop-over somewhere on the way, and a meal and refreshments all day.
To finish off my report, on behalf of the Euchre Card Committee, we wish to thank those who have supported our section during the year, in our activities (albeit somewhat limited, due to some trying Covid conditions), and those that purchase our lotto tickets from Cheryl Gianelly. We appreciate everyone's contribution, especially those helpers on card nights, who help make us a successful Sports Section within the Club.
Thanks to our elusive 'Joker ' who keeps our section members informed every couple of weeks via email or TXT, about happenings within our section.
Our members do appreciate these regular updates of what's planned. Wishing everyone a safe and happy Christmas and all the best in the New Year…
Lorraine Cole