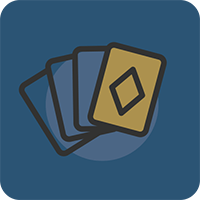 June 2021 Cards Update
Hello, welcome to all members.
Over the last month our activities have continued for our euchre card section members. We had our Annual General Meeting, with a great turnout with over 50 attending. All members are obviously happy with our existing team of committee and there was no one wishing to join. The evening finished off with social games and an awesome supper.
To date we have completed five Saturday Interclub/Crib games, with fairly good results. But as our team knows, there's a few games ahead of us yet! Our bye day is at the end of the first round on 12 June. We are holding a fun social afternoon for our section members; details will be on our notice board.
We are now into the colder winter months and we have decided to continue with tea and coffee at the half time break, which our members always appreciate. We will continue our subsidised drinks now only on Pairs Nights and on other special nights held within our section.
We had our Pairs Night on 27 May, which was very well attended.
We had 12 tables of 48 players, where everyone enjoys playing with their organised partner on the night.
Congrats to the winning pair, Cheryl Gianelly and Trish Cole on 20 pts. Second, on 18 pts, was Lorraine Cole and Diane Heath. In third place, on 17 pts, was Diane Findlay and Tony Bakhos.
Close scores after that.
We start our first round of six-week aggregate games on 3 June. The final night will be on 8 July, with scores accumulated on five best scores. Due to these games, there will be no Pairs Night on the last Thursday of 24 June.
We are also going to begin our Winter Tournament Games, played amongst pairs. All pairs are put into three or four groups, and they each play every pair in their group. Points are allocated on scores, then down to semi-finals through to a final winning pair. These games will be played any time, day or evening, so other club members will see our card section members playing euchre in the main club at times.
As at mid-May, our card section has 87 registered members, plus our three life members.
We welcome any other Club members to come along to euchre/cards and join our card section. We play every Thursday evening upstairs at 7pm and play 12 progressive euchre games, ie you don't require a partner (unless it is a special end of month game). The cost is $3.00 plus raffles. We finish just prior to 9.30pm.
That's all for this month, Thank You.
Lorraine Cole