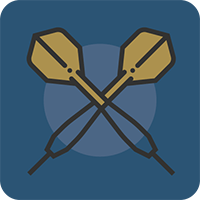 December 2021 Darts Update
The darts crew are still here, but not playing much. We have however been planning our return and from December 3 will be playing upstairs.
Work is well under way planning for the 54th South Islands to be held next March 2nd. The tournament will run for four days.
As normal, this time of year is the Worlds and of the 96 players entered is Ben Robb. Ben is from Kaiapoi and has been playing very well for a number of years. We wish him all the best on the big stage. First day of the Worlds is December 16, and it will end on January 4. We expect to see Gerwyn Price and Michael Van Gerwen in the final but there are many waiting to pounce including Fallon Sherrock. She has outstanding ability.
So if you still don't know what to buy your other half, how about tickets to the NZ Dart Masters in Hamilton on August 26 – 27 2022.
Merry Christmas to you all and a happy New Year.