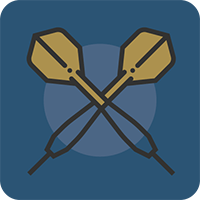 August 2022 Darts Update
Many thanks to all of our helpers with the running of the National Darts Tournament, we could not do it without you.
The event went well considering we had some Covid, with eight cases brought in from out of town but that is what any sport deal with. All cases isolated and went home which allowed us to continue. Wednesday was the mixed pairs all 104 pairs and the winner was Bluff Memorial RSA. Our top team were Vernaleigh and Kayden in 3rd equal and only one win off the final. Thursday saw the ladies' pairs start at 8.30 and the men's pairs start at 10 so a big day. Ladies' winners were a mother and daughter combo from Upper Hutt cossie.
Our top pair were Sarah and Vernaleigh in 5th equal. Men's pairs winners were from Kereru Sports Club for the second year running. This club was born from a bowling club in Spreydon. Our top team was Kayden and Jordan in 3rd equal, a fantastic effort for two young guys. Friday was the ladies' singles, and the winner was from Kaiapoi with our best Vernaleigh in 3rd equal, another great effort. Friday also had the junior boys and girls and the youth ladies and youth men. Hornby Club had our young Kayden Milne in this and he was the DTH (Defending Title Holder) so we were hoping for a good showing. And a great showing we got, Kayden easily won in great style. Saturday and the last day and the men's singles with 227 entered a big day ahead. Hornby had 21 of these and some of them for the very first time. The overall winner and second place was from Kaiapoi. Our best was again Kayden in 3rd equal. The 55th Nationals finished with a prize giving and drinks. The following weekend was a DPNZ double header qualifier to play in Hamilton for the World Series in August 26 and 27 and the winner on the second day was our young Kayden Milne. He has a great future ahead, so don't be afraid to back him at the TAB. Remember where you read it first.
DART boards for sale $40 each contact J Poole or any dart player.
Thank you.
Yours at Tops
JP