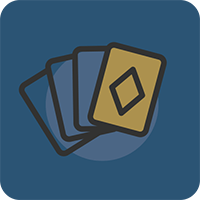 April 2021 Cards Update
Hello to all members
We have had lots of activities within our section, over the last month.
On Sunday 14 March, we hosted our Interclub six handed tournament, which is open to all Clubs. We had a good turnout, including some players travelling from Timaru and Ashburton Clubs, as well as our local Clubs. In total we had 14 tables and 84 players. We were happy with the tournament. Our next scheduled Interclub six handed is on Sunday 29 August.
On Thursday 18 March, we held our St Paddy's six handed night with section members. It was fun with lots of green attire on show. We had a great night with 57 players and an enjoyable supper. The winners on the night were Malcolm, Terry and Possum, with two teams as runners up. One point behind was Andy, Mary and Bernie and Mike, Sherlee and Diane.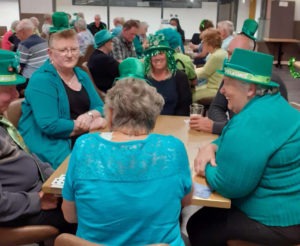 On Sunday 21 March, a team of eight played in the South Island Steinlager Euchre Pairs Tournament at Papanui Club. There were 18 Clubs participating. However, the cards didn't seem to be in Hornby's favour on the day.
On Thursday 25 March, we held a pairs night, instead of our usual progressive games. This event is always enjoyed by members.
On Thursday 29 April, it will be our Annual Euchre Section AGM. This means no set cards this night. We urge all members to come and share their views, this is the night to speak up. After the AGM, there will be a chance for everyone to have a few fun games amongst each other. Supper will be supplied at the end of the evening.
Our annual Interclub Euchre/Crib games start on Saturday 1 May. This involves playing two rounds of seven weeks each of play against other local Christchurch Clubs. It will be played on a home and on our away basis, travelling by bus. Our team consists of nine Euchre Pairs and four Crib Pairs. Our regular members look forward to these competitive games each year. Hornby has been competing in this tournament for the last 33 years, since 1988. The tournament began in 1902, amongst four other Clubs, so a lot of history and tradition. The "Shield Trophy" itself is over 100 years old.
It has been great to have eight new members join our section, who are now playing regularly each Thursday night. As always, to any others that wish to come along, we start at 7pm each Thursday night and finish at approx. 9.30pm. We play progressive, ie don't require a partner (unless pairs night).
To finish off, we would like to thank "The Joker", for his regular updates, where our members know what's happening , sometimes week by week. If members wish to be added to the database to receive these by text or email, let Cheryl or myself know.
Till next month
Lorraine Cole