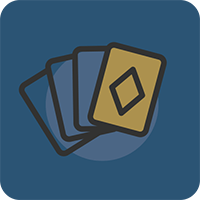 October 2020 Cards Update
Hello to all members,
Coming back into Level One gave us the chance to restart our Euchre Club nights, without restricted numbers in our main club. We had six long weeks not playing. Our first night back we had only 27 members, but those who were playing were happy to be back. Well done to the winners on that night, photo shown, being paid out by our treasurer, Anne Hepburn.
We decided to have a Special Pairs night on 1st October due to it being our last night playing in the Main Bar as we now move into our new Club. We had a great turnout with 48 players (12 tables).
Thanks to all members that came to play for our final night. As always it was a fun, social night, playing with the same partner. There is always lots of laughs amongst the tables.
We also provided tea and coffee and biscuits at half time, which members appreciated. The winners on the night after 12 games were Michael and Sherrle Gray on 20 pts and equal 2nd on 18 pts were Alan Shears/ John Churchil and Ricky Winter/Gina Howden-Winter. Well done. Very close scores, a great night enjoyed by all!
From now we will be in our new Club.
Events coming up
Sun 11 October
We have approximately 35 members going on a bus to play cards with Oxford Club with Clarks Coachline. We will be leaving Hornby at 10am and going to Kaiapoi Club for a two-course lunch meal then through to Oxford. Always a fun social day for everyone.
15 October
It's the first night of Euchre in the new Club and from there onwards every Thursday evening with a 7pm start.
29 October
Pairs night.
5 November
Six handed so get your team of three together. We will have a Halloween/Guy Fawkes Theme. Simple Fancy Dress if you would like to.
12 November
It's the Thelma Dawson Trophy. In honour of a past, loyal member of both the Cards and Crib section we have an inhouse tournament between our two sections and supper to finish off the night. Please put name down for supper numbers.
We will be back in touch next month.
Regards
Lorraine Cole